Do you ever wonder what makes a whole country united under one cause? Under one Celebration? Its not religion, its not tradition, its not culture. I remember the day when Bangladesh Cricket team won the ICC ChampionShip Trophy back in 1997. The final match was against kenya. I was literally a baby back then. But i remember the scream. I remember people shouting from there home nearby. I remember the victory rally that day. It was a reverse day match and Bangladesh won on Duckworth-Lewis method. 
Our Team is going to play for the first time in ICC Cricket World Cup. This was a occasion of joy after a long time. Only a few month back, the whole country was in a political in-stability. ICC champion trophy tuck the whole country back under one agenda, Next Stop ICC World Cup 1999. The world cup was a historic Event for the Whole nation.
I was a kid then, only time i went out was with my parents or to play in the field nearby. There was a tea stall nearby the field. Only thing people talked our tea was cricket. Before that, two team ruled over people's heart in Bangladesh, INDIA and PAKISTAN. Everybody talked about how great Tendulkar was or how awesome Wasim Akram Was. Everything changed after Champion Trophy. Now everyone talks about Bangladesh Cricket team.
A new line of heroes born that day. Now we have our own cricket team to talk about. Its not much considering other teams participating in the 1999 Worldcup. We just started walking and everyone else is already running on full speed. The emotion behind this was complex. We became a independent nation when we fought against Pakistan to Earn our independence in 1971. 3 Million people dead, 200 Thousand women Raped. Entire Infostructure was dozed to ground. We didn't have a functional government back then, we were picking up pieces and dead body. But we built ourselves back. We did it slow, and it wasn't perfect in any sense, but we did it. This was our first mark in a International Territory.
The Champion Trophy made an international event. Only a few nation played cricket back then ( And now ), but it was a Achievement like none other.
1999 World cup made another international appearance. We met our first victory after two lost against New Zealand and West indies. Against the same Scotland, we won today ( 05 March, 2015 ). We won by 22 Run. After that, we lost against Australia. Australia is a Cricket Superpower, was back then, is now. The next match was against Pakistan. The very same country we fought our liberty from. Bangladesh faced pakistan 7 times before, and lost each match. This was not just a world cup, it was a lot more thing. It was the 1471th One Day International Match and we faced one of the most powerful team in cricket history.
All the greatest player of Pakistan's Cricket teams history was in that team. Almost every player of that team holds multiple international records. And there was us, a young team with less experience and almost no star player. Then,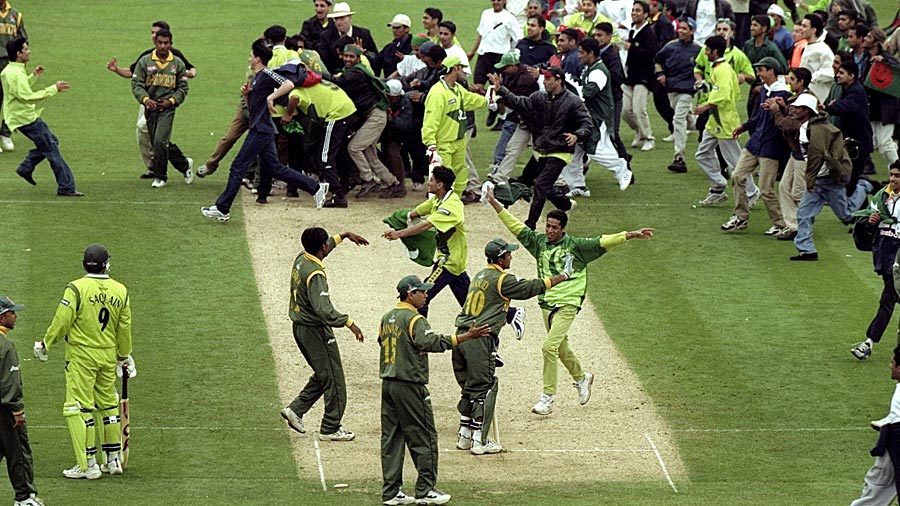 Our boys beat the shit out of Pakistan. It was a rare event, when a team like Pakistan takes a beating from the underdog Bangladesh. We scored 223 on our Batting innings.
Four of the pakistan's most prominent batsman – Saeed Anwar, Shahid Afridi, Ijaz Ahmed, Inzamam-ul-Haq ,Saleem Malik couldn't even make a double figure run. I could hear the crowd shouting outside, everyone was going nuts. There was some people nearby who supported Pakistan, they were on the rooftop, taking down the flag of Pakistan. The last wicket was something else. It was a runout and the field umpire called for a third umpire review. The second he made that called, people on the stadium, supporting Bangladesh broke the barricade and went into the ground shouting and dancing. It wasn't sure that if it was a wicket or not, but people already started the celebration. One of our neighbours, was running to a nearby shop, to buy firecracker, to celebrate. It was a moment of absolute joy. We won against the country who tortured us for 25 years.
Well, the third umpire made the call and it was a wicket. We made history that day. 28 years ago the very same year we earned our independence from the same country with blood, this time with cricket.
I know people who isn't superstitious in anything. But if once something bad happens in a match while they are doing something, they never do that again. I know someone who never watch a match of Bangladesh, because it's his believe that each match he sees, Bangladesh lose. These people ain't idiots. They just love their team that much.
This isn't just a sports, Its the emotion of a nation. No matter who you are, a rich guy, a thief, a criminal or a police, when this country is playing cricket, everybody holds their position. When this country plays cricket, everything changes. Everytime we score a six or four, we shout with our hearts out. Everytime we lose a wicket, we shed tear together. Every win is for the country, every lose is our next battle. This is not just a game of players, its a game of a nations emotion. Its cricket. And its our beloved cricket team. No matter what you do, win good or lose bad, we will be their, standing behind you, shouting, supporting, screaming our hearts off. We trust in Bangladesh Cricket Team, No matter what.